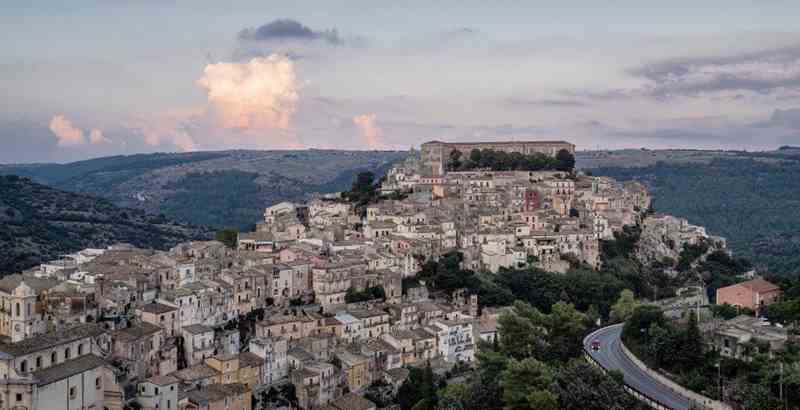 Comiso Tourist Attractions
When you arrive at Comiso Airport, you are only a 10 minutes' drive from Comiso City Center. You will then find yourself in the heart of Sicily in southern Italy. At this location, you will have the possibility to see and explore so many different sites and attractions around the island.
Below you will find inspiration to some charming, entertaining, unusual and significant tours you can enjoy together with your travel companion(s).
Etna in the Morning: Half-Day Excursion from Catania
Have you ever experienced a real volcano lava cave before? If not, you get the chance by booking this outstanding excursion from Catania. On this tour, you get to explore the sensational Etna, which is the highest active volcano in Europe.
You will be pick-up from an agreed location in Catania. From here, an air-conditioned Jeep or minivan will take you and the rest of the group to Mount Etna. You will rise to a height of 2,000 meters while your expert guide will tell you more about the history of the volcano. The guide will also answer any questions you might have.
You will be informed about specific highlights of the volcano, like its nature and resources, and its amazing landscapes. Furthermore, you will hear stories about how the volcano's huge lava flows have destroyed buildings and roads in the past.
Once you arrive at an altitude of 2,000 meters, you will join a nature trek where you get to experience the unique landscapes of the volcano. This will be a great combination of adventure and learning. You will be walking between recent lava flows and ancient craters in a surreal unique moonscape. The walk will be easy and suitable for everyone, including families with young children and older members.
After the walk, you will have time for a short break where you can grab a snack. Then you will be heading towards your second stop. At this stop, you will be provided with a helmet and a flashlight. Now it is time to go explore a lava flow cave. Your guide will tell you everything about the lava flow cave's origin and the features.
Your last and final stop of the tour will be at a chosen viewpoint, where you will have a
Panorama view of the Valle del Bove. This is the most important valley on the east slope of the volcano.
Then your 6-hour excursion is about to finish and your driver will take you back to your pick-up location.
Palermo: 2-Hour Sicilian Cheese and Wine Tasting Tour
If you are a true cheese and wine enthusiast, this 2-hour Sicilian Cheese and Wine Tasting Tour in Palermo will be amazing for you!
You will meet at Piazza San Domenico, where you will proceed into a magnificent 16th century private home. This is just a few steps from the famous Arab market Vucciria. Inside the private home, you will be surrounded by a peaceful and relaxing atmosphere where your cheese and wine tasting experience is about to begin.
You will be presented with some of the best typical Sicilian wines and cheeses. The original Sicilian wines that you will be tasting includes Frappato, Nero d'Avola, Catarratto, Grillo, Anzonica (Insolia), and Grecanico.
All wines will be gracefully connected with the best Sicilian cheeses, including Primo Sale, Caciocavallo fresco, Ricotta infornata, Canestrato, Vastedda del Belice, and Tuma persa.
While you taste the cheeses and the wines, you will also be offered good black bread from Castelvetrano or Monreale and a rich mixed salad.
End the cheese and wine tastings with an original cassatelle (fried sweets) of San Vito lo Capo and the classical sweet wine Zibibbo.
Don't miss out on this delicious tour!
Agrigento: Valley of the Temples Entrance Ticket
With an entrance ticket to Valley of the Temples in Agrigento, you are in for a memorable experience. With the ticket, you will skip the line and walk straight into the UNESCO World Heritage Site.
Take a lively tour through the archaeological ruins at Agrigento at the Valley of the Temples. Here you can discover the enormous artistic and archaeological heritage of Sicily as you explore the valley. The site stretches over 1,300 hectares so you will have plenty of areas to investigate. This was the foundation of the ancient Greek colony of Akragas.
At the Valley of the Temples, you can learn about history that began in the 6th-century Before Christ.
Examine the terraced levels of the site that used to be a center of the public life of the ancient Greco-Romans and wonder at the canals. As you take a walk around you will see impressive temples including the Temple to Zeus, Tempio della Concordia, Tempio di Eracle, among others. Finally, you can also appreciate the gymnasium. This is an ancient location for athletic, educational, and recreational activities.
This is truly an experience that will teach you much about the history of Sicily, Italy.
Are you ready to go on an exceptional tour with a rich dining experience in Palermo? This will include local ingredients only, so you get a real taste of what this beautiful Italien island has to offer.
On this 3.5-hour tour, you will stop at five traditional food places or restaurants in Palermo. This Italian culinary experience will leave you with a belly full of some of the best Italian food, and a backpack full of unforgettable memories. You will be offered 8 different dishes and one drink in total.
On the tour, you will be served the following dishes:
Panino with panelle and crocchè: On of the most popular street foods of Palermo is sesame bread stuffed with mashed potatoes balls or chickpea omelet. Make sure that you don't miss out on this, as it will give you an overview of the tasty and rich Sicilian food culture.
Sfincione: This dish is made with a pizza-like dough as a bottom. Then it is covered with fresh tomato salsa, capers, anchovies paste, and onion. If you want to taste the extraordinary version of a traditional pizza, Sfincione should be your choice.
Rice arancina: These rice balls are famous all around the world! They are filled with different ingredients such as meat, smoked ham, spinach, mixed cheese, and more. Then the rice balls are deep-fried according to a centuries-long tradition. This most simply be the best fried-food you can possibly try.
Pasta Alla norma: Here you will be served traditionally shaped pasta, which is usually macaroni. The dish includes fresh tomato salsa, fried aubergines, salty seasoned ricotta cheese, and basil. The recipe was originally from Catania but soon it became a symbol of Sicilian savory food.
Anelletti al Forno: Once again, you will get to taste some pasta because this dish includes small-sized pasta shaped in the form of a ring (Anello in Italian). It is topped with meat and pea salsa. If you are going to Palermo you just have to try this signature dish.
Traditional vegetables with parmigiana di melanzane: This dish consists of fried aubergines, tomato salsa, parmesan, and mozzarella cheese. It is a very famous Sicilian dish.
Sicilian cannoli: Ready for some sweet? Enjoy a waffle that is traditionally shaped around a hot metallic bar. The waffle will be filled with a sweet and creamy paste made from ricotta cheese, candied fruit, and crunchy pistachios or dark chocolate drops. This will be an unusual sight!
Sicilian Granita: This is a cold drink, which should be just perfect for relaxing on a warm summer afternoon. It is normally intended to conclude a rich meal. The Sicilian Granita is made from fresh fruit, sugar, and ice. All are very simple ingredients however the taste is incredible, especially if you get it topped with coffee, chocolate, or more fruit.
Sicilian cassata: This is a traditional Sicilian pie that you have to enjoy cold. It is made with fresh ricotta cheese, dried fruit, wheat paste, and other sweet ingredients. It is based on a recipe that is a hundred years old.
All the 8 dishes and a cold drink, should guarantee everyone to leave with a full belly. The Palermo Traditional Food Tour is simply an experience not to miss if you want to experience real Italian food.
UNBEATABLE VALUE CAR RENTAL

FREE
Amendments,
FREE
Cancellations,
NO
card fees!

airport_shuttle Need Airport Transfers?
Useful Information about Comiso Airport