Destinations with connections to Comiso Airport (CIY)
Flights, Arrivals & Departures at Comiso Airport
| Origin | Airline | Flight no. | Scheduled | Est./Actual | Status |
| --- | --- | --- | --- | --- | --- |
| Bergamo (BGY) | Flexflight | W28515 | 17:00 | | Scheduled |
| Bergamo (BGY) | Aeroitalia | XZ3815 | 17:00 | | Scheduled |
| Rome (FCO) | Flexflight | W28517 | 22:20 | | Scheduled |
| Rome (FCO) | Aeroitalia | XZ3821 | 22:20 | | Scheduled |
| Destination | Airline | Flight no. | Scheduled | Est./Actual | Status |
| --- | --- | --- | --- | --- | --- |
| Milan (BGY) | Flexflight | W28514 | 07:00 | | Scheduled |
| Milan (BGY) | Aeroitalia | XZ3814 | 07:00 | | Scheduled |
| Rome (FCO) | Flexflight | W28516 | 18:50 | | Scheduled |
| Rome (FCO) | Aeroitalia | XZ3820 | 18:50 | | Scheduled |
| Palermo (PMO) | Aeroitalia | XZ9992 | 23:00 | | Scheduled |
Flying To and From Comiso Airport
This page provides information about the destinations that can be reached via Comiso Airport .
Was your flight delayed or cancelled?
You may be eligible to receive up to 600 EUR compensation per person in your party..
Claim Now!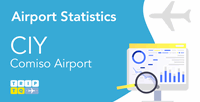 Comiso Airport experienced a remarkable surge in passenger numbers in July 2023, reaching an all-time high of 91,861. This represents an astounding increase of 712.43% compared to July of the pandemic year 2020, where only 11,307 passengers were recorded...