Comiso Airport Arrivals (CIY)
Not all flights may be showing. If not available use search above to find your flight by airline, airport or flight number.
Origin
Airline
Flight no.
Scheduled
Est./Actual
Status
Bergamo (BGY)
Flexflight
W28515
05:00
Scheduled
Bergamo (BGY)
Aeroitalia
XZ3815
05:00
Scheduled
No flight arrivals were found at Comiso Airport .
Flight Arrivals at Comiso Airport
Comiso Airport was founded back in 1939. For the first period, the airport was used as a military base for aircraft and transport. However, in 2004 a reconstruction of the airport started. Comiso Airport open to commercial and general aviation in 2013. Today CIY Airport serves around 500,000 passengers each year. The passenger number is still increasing year by year.
Comiso Airport Ground Transportation
Comiso Airport is located 3 miles/5 km from downtown Comiso and about 9.3 miles/15 km from Ragusa, Vittoria, and Gela. From the airport, you will have a selection of ground transportation services that can bring you to and from your further location.
Transfers to and from Comiso Airport
Local Bus Lines: There is a number of local bus lines that connect CIY to the surrounding areas.
Airport Shuttle Buses: Sicily Shuttle is a transfer service for all passengers arriving at and departing from Comiso Airport. This company offers bus shuttle transportation to and from many nearby places around Comiso Airport.
Taxis: You can take a taxi to and from CIY Airport to the center of Comiso, which will take approximately 10 minutes. The price of a taxi ride from the airport to the center of Comiso is about €15.
Airport Hotel Shuttles: There will be various hotels and resorts, which offer a shuttle bus service at your disposal to get you to and from Comiso Airport.
Car Rental Companies: You can book your car rental through one of the many car rental companies at Comiso Airport.
Comiso Airport is connected with the State Road 514 of Chiaramonte and with the Provincial Road 5 Vittoria-Cannamellito-Pantaleo. The journey to and from the city center of Comiso takes about 10 minutes.
The address of the Comiso Airport can be found below:
Airport (CIY)
Strada Provinciale 5
97013 Comiso RG
Italy
If you have any questions or concerns you can contact Comiso Airport by telephone on +39 0932 961467.
Pick-up
All passengers at CIY Airport should use the airport's parking lot when picking up or dropping off passengers.
The parking lot at Comiso Airport is a convenient parking space that gives travelers direct access and can help save time before your next journey, or if you are going to pick up a passenger. Everyone can enjoy free of charge parking for up to 15 minutes at parking lot A, and 5 minutes at parking lot B.
Comiso Airport - Special Need Services
All passengers with disabilities or reduced mobility (PRM) can get special services at Comiso Airport. At CIY Airport there will be assigned staff to help provide any assistance to travelers with disabilities, however, please make sure that you make a relevant request at least 48 hours prior to the departure of your flight.
Once arriving at the airport, please go to the airline's check-in point so you can inform the ground assistance service providers about your arrival.
Comiso Airport also offers free parking spaces for people with reduced mobility inside the parking lots A and B. Passengers will find five designated parking spaces in parking lot A, and two designated parking spaces at parking lot B. Parking is free if the PRM passenger is in possession of the Disable Tag.
Was your flight delayed or cancelled?
You may be eligible to receive up to 600 EUR compensation per person in your party..
Claim Now!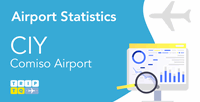 Comiso Airport experienced a remarkable surge in passenger numbers in July 2023, reaching an all-time high of 91,861. This represents an astounding increase of 712.43% compared to July of the pandemic year 2020, where only 11,307 passengers were recorded...